『 bird songs 』DVD (in English)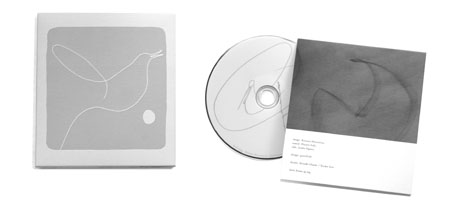 【 bird songs 】 DVD ( 28min, 2,500yen)
as a image work of bird's shape wire mobiles by Kentaro Masumitsu
You can see a sample movie of this here.
http://www.house-jp.org/bird-songs/
The production of 'bird'
One-storoked-picture on a paper , I had an impression that there was a depth in the plane. A line head for here and it left there. I tried to shape of a wire (connected from the start to the end) to come closer to the impression I had. Then'Birds' was started.
The line. I took it out to the palm.
A moment of the release the air ,I heard bird songs.
I search for the center of gravity as I move the shape. And then I put it up using it's own fulcrum. Just then the bird turns and waves blown by wind. It shakes its tail, unfurls, narrows its wings, tries to fly away, and stay. The shape seems to be on two dimensions when it stays, and be in three dimensions when it moves. My interpretation goes like this.
The 'existence' is a continuance of different sights from one side just like flip-book. I can only see one face of the whole 'existence' , but in reality there are infinite faces like a polyhedron.
The birds changing their figure are similar to human being. That is how I see it.
The composition of 'bird songs'

I produced the dvd as a film work for my exhibition 'picture book', held at ANONIMA-STUDIO(※) In December, 2010. My finger flicks the 'bird', in which starts the film. The morning starts and, time passes, and the night gets late. 'I' snap out of my shell, sink in the well, go through the tunnel, and reach the exit 'I' in reality again.
When I return to my reality, I can discover my own new interpretation of things in my life.
What brings us each to an another world?
It is here as long as you try to explore daily life .
(a quotation from 'picture book'text)
And then, I surely encounter 'me', which I had never known.
(※)ANONIMA-STUDIO :A part of the publishes which has a lot of many books about life style.
Movie : Kentaro Masumitsu
Creates tools for daily life and sculptures made by leather, metal, wood, papers, and used material in his own atelie'House'.
Holds exhibitions and workshops around Japan. The wire works a's bird songs'was started from 2009. http://www.house-jp.org

Sound : Hayato Aoki
Especialy plays and composes guitar sounds accordingly to each space on occasion for exhibitions, shows, movies and artworks of artists.
On 'bird songs' DVD he plays back sounds with piano as well as taking charge of package design. He released 5 CDs and 2 CD-Rs (solo), and 2CDs (duo as 'radiosonde' ※ ). (※) 'radiosonde' is a duo with Tsuda Takashi. (a.k.a hofli) http://grainfield.net/

Edit : Junko Ogawa
Plans and directs movie projects, including music clips, educational/entertainment programs, and TV commercials. She also writes picture book stories and scripts for animations. She participated in this DVD as an editor and adviser.

・
・
・
About the purchase from overseas
If you hope the DVD (2,500yen), I can buy it by 'paypal'.
Please let know your address first.Then I will return my account address on paypal and the total amount including a shipping cost. I send it after the check of payment.
kentarom■house-jp.org (■=@)